Melba Parade, Anglesea, VIC 3230
Reviews of
Melba Parade, Anglesea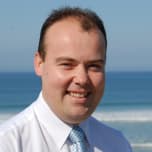 "Melba Parade"
The iconic street in Anglesea, just across the road from the famous family friendly Point Roadknight beach, most houses having absolutely stunning views.
Andrew Brown
Real Estate Agent
Surf Coast Real Estate Anglesea
The opinions expressed within this review are those of the individual reviewer and not those of Homely.com.au.
Report
Unranked Streets in
Melba Parade
Popular questions in
Anglesea
Unanswered questions in
Anglesea
Looking for a home on or near
Melba Parade?
Find real estate agents in
Anglesea