Laxton Street, McCracken, SA 5211
Reviews of
Laxton Street, McCracken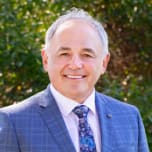 "Custom design options, stunning vistas & blue skies"
All services are available to the allotment, so make the most of the natural features this block can offer.
Imagine yourself relaxing on a sunny and secluded deck, taking in the panoramic views.
Paul Price
Harcourts South Coast
The opinions expressed within this review are those of the individual and not those of Homely.com.au.
Report
Unranked streets in
McCracken
Popular questions in
McCracken
Unanswered questions in
McCracken
Find real estate agents in
McCracken