Great for
Neighbourly spirit
Parks and recreation
Public transport
Schools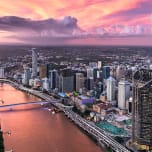 "In the beginnings of something good"
I'm now 14 months into living in Redbank, having built a house within one of the new estates. I'm halfway between Redbank Plaza and Redbank Plains Town Square. 15 mins from Springfield, and not far off the entrances to the highway.
I think being on the outskirts of the ever growing Springfield region, and with its own boom in growth occurring, I think Redbank is an underdog in terms of its potential - its a family friendly simple suburb with all the amenities. Sure there are the "colourful" and "unsavoury" characters around but it really isn't that bad.
There are some great, and not so great schools in the area, but that's normal I think.
Having lived in various suburbs on the north and south sides of Brisbane, (touch wood) and no issues at all so far with safety or similar, I give Redbank the tick of approval.
The opinions expressed within this review are those of the individual and not those of Homely.com.au.
Report
Popular questions in
Redbank
Unanswered questions in
Redbank
Find real estate agents in
Redbank