Bougainvillea Court, Marangaroo, WA 6064
Great for
Parks and recreation
Public transport
Schools
Reviews of
Bougainvillea Court, Marangaroo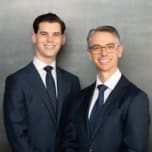 "Walking distance to..."
Bougainvillea Court is lovely cul de sac street literally around the corner from Rawlinson Primary. Walking distance to Alexander Heights Shopping Centre, Paloma Park, and multiple bus routes. Family friendly area with easy access to Kinsgway Sporting Complex, Kingsway Shopping Centre and Newpark Shopping Centre.
Matt Condit Real Estate Agent Professionals Granger Clark Real Estate
The opinions expressed within this review are those of the individual and not those of Homely.com.au.
Report
Best Streets in
Bougainvillea Court
Unranked Streets in
Bougainvillea Court
Popular questions in
Marangaroo
Unanswered questions in
Marangaroo
Find real estate agents in
Marangaroo